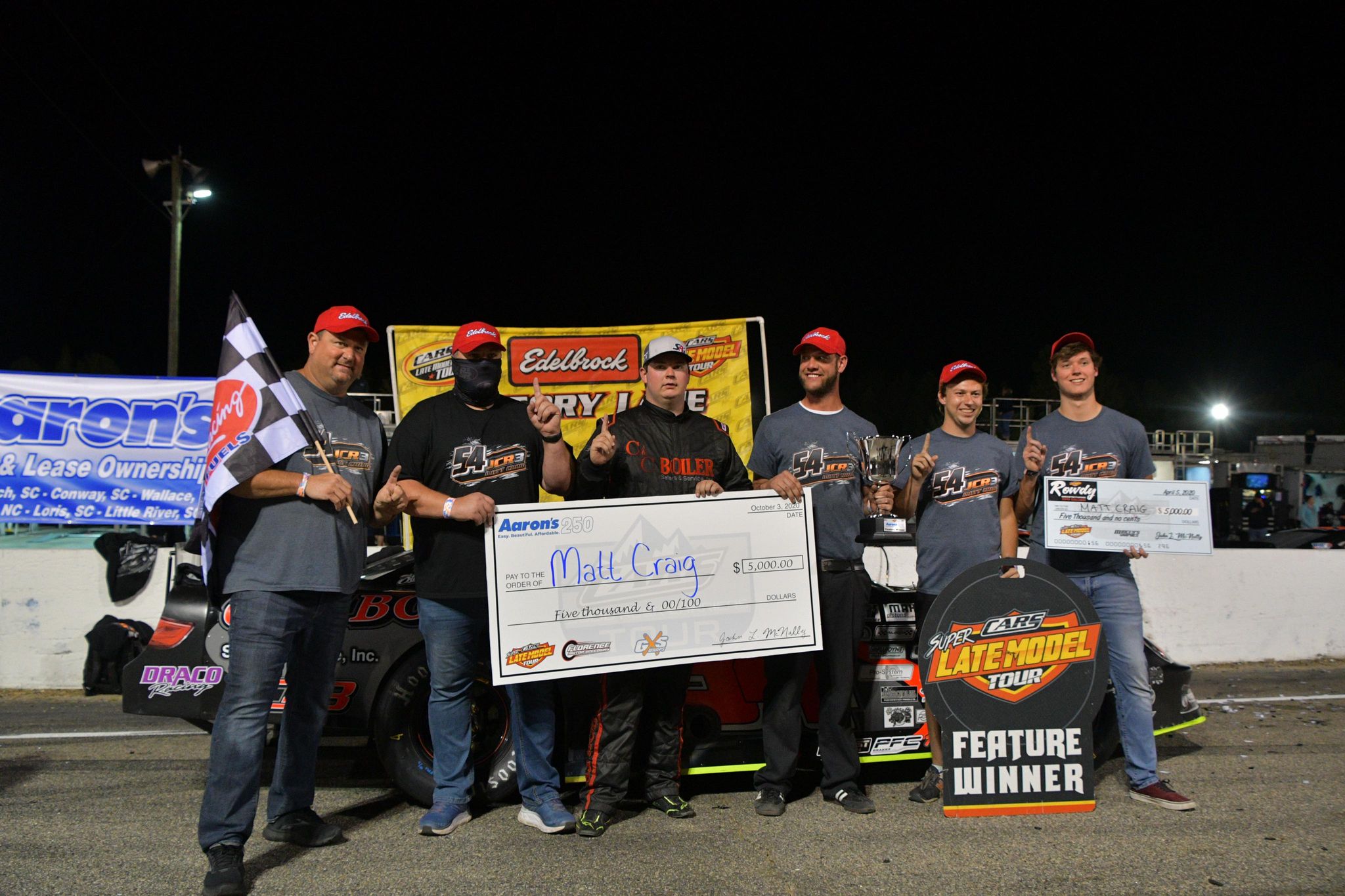 Matt Craig held off numerous challenges in the Super Late Model portion of Saturday night's Aaron's 250 at Florence Motor Speedway to pick up his third win of the 2020 Solid Rock Carriers CARS Tour season and his eighth series win overall.
Craig swapped the lead throughout the race with Bristol winner Trevor Noles, who went on to finish second, and Michael Ritch, who was involved in a mid-race incident with Carson Kvapil.  On a late race restart, Kyle Busch Motorsports driver Sammy Smith was able to drive to his inside and challenge for the lead, but Craig held him off and drove away from the field to score the victory.
"These cars have a lot of horsepower and, if you run hard, you won't have any tire left," Craig said in victory lane.  "My car was good.  It got a little hairy with [Michael Ritch] at times.  His strategy was 'go hard' and it didn't really work out for him.  The last restart got a little hairy but we were able to come out with the lead and we had just enough tire and car to be able to pull away."
Noles finished second while Smith, Kodie Conner and Justin Crider rounded out the top-five.
The race's most notable incident came on a lap 80 restart when Michael Ritch ran Carson Kvapil, who came into Saturday's race fresh off a sweep of a Carolina Pro Late Model Series doubleheader at Hickory, off the track resulting in both cars receiving significant damage.  Ritch was penalized by CARS Tour officials before retiring while Kvapil continued racing but fell out later in the race.
Results:
Matt Craig
Trevor Noles
Sammy Smith
Kodie Conner
Justin Crider
Tyler Church
Jeff Batten
Kris Wright
Carson Kvapil
Cole Timm
Michael Ritc