Short Track Scene is ringing in the new year with a look back at the best and worst of the 2020 season.
There was no shortage of storylines across the Super Late Model, Late Model Stock and Tour Type Modified world — occasionally crossing over into the mainstream.
Without further ado, here is what the short track community provided the racing community in 2020.
BEST RACE: WHAT WAS THE RACE OF THE YEAR?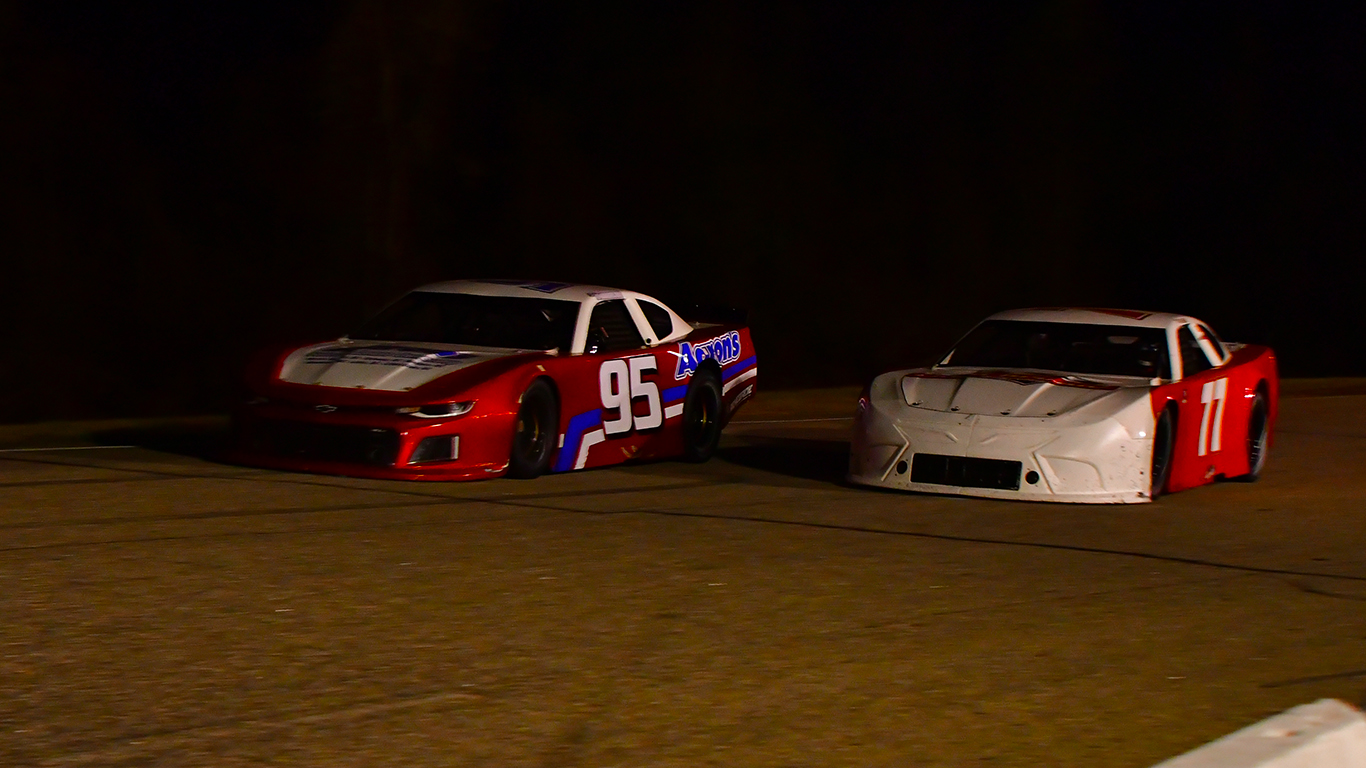 Matt Weaver: It wasn't the Myrtle Beach 400, and nothing will ever replace that legendary event, but Steve Zacharias tried his best with the inaugural South Carolina 400 at Florence Motor Speedway. The first-year event was also the best overall race of the season that culminated with Ty Majeski winning in his debut Late Model Stock appearance. Majeski and Chad Bryant Racing spent the two test days twice changing engines and struggling to adapt to the bulkier perimeter rail car. Majeski started the race in 14th and spent the first half of the race following Josh Berry. Majeski then outdueled the reigning NASCAR Weekly Series champion in a thrilling tire management race.
Andy Marquis: The inaugural South Carolina 400 at Florence Motor Speedway, which replaced the Myrtle Beach 400, lived up to its predecessor and so much more. The evening started with a thrilling Carolina Pro Late Model Series race which was won by Carson Kvapil, and concluded with an equally entertaining Late Model Stock Car feature. After a handful of lead changes throughout the race where side-by-side and three-wide racing was the norm, Ty Majeski was able to race his way past Josh Berry in the closing laps to score the victory.
Brandon White: The South Carolina 400 at Florence Motor Speedway stands out in so many ways, with the most notable one being the daunting task of track promoter Steve Zacharias holding an event that could be the perfect spiritual successor to the Myrtle Beach 400. While it did not attract the typical crowd of 50 cars, the South Carolina 400 featured great racing all evening that culminated into an incredible battle between Josh Berry and Ty Majeski, with the latter holding on to score the victory in his first career Late Model race.
Jeff Brown: Any race where we could walk through the pit or the grandstand gate. There was an unsettling feeling that we wouldn't be able to do that at all this year. Once we could, there was still that sense that we were racing another shutdown. Every race that we got to attend this year was one we couldn't take for granted. And in that vein, the Oxford 250 was the best individual race I made it to this year. Even a week out, it felt like Maine might force PASS and Oxford to reschedule. Saturday's rainout forced a frantic Sunday schedule that played into the urgency of the event. The 250 itself was a showdown between two legends trying to win The Big One, and you knew at least one had to go home disappointed. The absence of fans in either a Taylor or Clark win was a tragedy. But just being at Oxford, even if the rest of the year's racing got canceled afterward, felt like a victory over the oddness of 2020.
BEST FINISH: WHICH RACE HAD THE BEST ENDING?
Matt Weaver: How can the answer be anything but the race decided by .0000000000001 seconds? That's the margin of victory from Anthony Nocella over Matt Hirschman in the John Blewett III 76 during the World Series of Asphalt at New Smyrna Speedway. The finish was more remarkable because the race was close and the battle was clean one day after both Nocella and Hirschman lamented how Craig Lutz roughed both up to win at Speedweeks feature the night before.
Andy Marquis: The CARS Late Model Stock Tour Race at Ace Speedway was overshadowed by political controversy but the race was memorable in its own right. After a fairly procedural run in the race's first two segments, the final 40 laps were nothing short of breathtaking.  Josh Berry and Bobby McCarty tangled in the race, which resulted in Berry intentionally crashing his rival in retaliatory fashion.  What followed was a three-wide shootout with Ryan Millington defeating Layne Riggs and Jared Fryar in a photo finish.
Brandon White: Expectations were not high on the AutosByNelson.com 250 at Franklin County Speedway when the CARS Tour made their first visit to the facility in August, yet the old track showed off its character after a long rain delay with Mike Looney and Jared Fryar setting the pace. The duo never let each other out of sight and battled all the way to the checkered flag, with Fryar and Looney trading paint and the lead numerous times over the final four laps. Fryar ultimately prevailed over Looney, which proved to be crucial in him securing the series title just a couple months later.
Jeff Brown: For the second year running, the best finish I saw in person was a Granite State Pro Stock Series race at Star Speedway. For the last 16 laps, Joey Polewarczyk and Derek Griffith went door to door, never using each other up, giving each other just enough room and settling the race by a couple feet in Pole's favor. Last year, it was fender-banging and hard feelings. This year, it was handshakes and mutual respect between two dudes from Hudson, N.H., one the rising star, one the local veteran. That's a hard-fought finish that you can truly feel good about.
BEST TRACK: WHO RUNS THE BEST VENUE?
Matt Weaver: Stafford Motor Speedway continues to set the standard in weekly track operation. When racing was halted  by the shutdown, the Arutes kept their brand on the forefront by moving The Show to iRacing. When racing resumed, without crowds, the events were aired on Pay-Per-View, with 25 percent of the proceeds going to race purses for the local divisions. When NASCAR insisted it owned the rights to all video content produced by its member tracks, Stafford decided to go at it alone rather than send the sanctioning money to NASCAR. The Arutes are bold trailblazers who are willing to take risks. Their social media game continues to be the best in pavement racing as well.
Andy Marquis: In a year where so much of society was forced to go virtual, it's only fitting that the best venue in racing exists only in the virtual realm.  That track in the virtual world is Weaber Valley Speedway, a hilariously entertaining Facebook page that posts intentionally misspelled previews and recaps of their "Bang Banger" races, has merchandise available, has drawn the attention of MAVTV Motorsports Network, and often posts hilarious statuses about buffalos not being welcome and cars that have nice decals being illegal, and so much more.  The competitors from Weaber Valley Speedway also have Facebook pages – including social media standout Gauge Martinez, Ronny Johnson, who was penalized for hijacking the race control frequency and yelling "yella yella," Daniel Dye, Patrick Pete, Ashley Shannon, and more.
Brandon White: One of the newer tracks to the East Coast, Dominion Raceway always gives off a professional atmosphere every time you walk in. From a restaurant on the second floor to suites on the third, Dominion represents a 21st Century short track, and the amount of care the staff takes in preparation carries over into the on-track product, with weekly races typically attracting 20 cars and big names like Josh Berry and Peyton Sellers.
Jeff Brown: Last year, I gave the nod to Star Speedway in Epping, N.H. for a number of reasons. Star is a really racy little track, they welcome just about every kind of short track discipline from enduros to winged Supermodifieds, they don't waste fans' time with lengthy delays between features, and the Webbers work closely with their racers to make racer-friendly decisions. This year, Webber opted out of Star's NASCAR partnership for a couple reasons. No matter; despite the obvious restrictions at hand, Star's weekly programs still drew solid car counts, their touring shows were top-notch, and Webber is still marching forward with capital improvements. Star also expanded this year's Star Classic to a three-day program, so as not to squeeze too many features into a single night. That, plus earlier start times for touring shows in general, meant that the last checkered flag of the night often fell before nine o'clock. And that's good for everyone involved.
The Most Impactful and Memorable Short Track Moments of 2020
BEST QUOTE: MOST QUOTABLE DRIVER OF 2020
Matt Weaver: I've always said that Short Track Scene doesn't work without Bubba Pollard. He is the most reported-on racer in the history of this website and is without a doubt the most notable short track driver in North America. The 33-year-old can be equal parts polarizing, political and thoughtful depending on his mood. His words carry further than anyone else in the industry and 2020 was an important year for him personally and professionally. If there is an important story to be told in this discipline, I go to Bubba because his words matter and people care about what he has to say.
Andy Marquis: "That's just a damn good racecar driver." This was what Josh Berry had to say after finishing second to Ty Majeski in the South Carolina 400 in November.  Berry, who is always a class act, just admitted that he got outran by Majeski and complimented the Wisconsin wheelman's abilities behind the wheel after congratulating him in victory lane. He is always a good quote depending on the circumstances.
Brandon White: It's no secret that Bobby McCarty has developed quite the polarizing reputation within the short track industry. Whether you're a fan or not, McCarty is very passionate about his desire to win races and isn't afraid to convey emotion in his interviews, regardless if he leads every lap or was involved in a wreck that ended his night.
Jeff Brown: Sadly, a lot of tracks up here were tight on interviews and victory lane celebrations due to pandemic precautions. That said, after publishing our feature on Supermodified racer Bobby Timmons III, Bobby fired off a quote at Oxford that I wish he'd given me a couple weeks before: "Supermodifieds are the best race cars for lazy people. Why do you think all the important stuff is outside the frame?"
UNBELIEVABLE: THE MOST SURREAL MOMENT OF 2020
Matt Weaver: There is a recency bias at-play here, but I'm still completely beside myself over what happened at the end of the Snowflake 100 when Bubba Pollard spun after slight contact from Stephen Nasse on the final corner of the biggest Pro Late Model race of the year. Nasse was penalized for the act, fueling a continuing narrative that officials at 5 Flags Speedway has it out for the 26-year-old from Pinellas Park, Florida. As a result, Jake Johnson was declared the winner of the race. Nasse protested his case for hours and the win wasn't made official until well after fans went home.
Andy Marquis: When two-time Myrtle Beach Speedway champion Justin Milliken was involved in an accident on lap 42 in the final Late Model Stock Car feature race ever held at Myrtle Beach Speedway, he decided he was going to cross the finish line to complete his last lap at his hometown track.  So, in Ricky Bobby style, Milliken got out of his car and walked across the line while waving to the fans, holding back tears in the process. "My family's been coming here for five generations and I wasn't going to end in turn four," Milliken, who was fighting back tears, said. "I was going to complete that last lap.  It didn't matter if they ran me over, somebody was going to drag me across the line."
Brandon White:  Although it was not a part of any sanctioned or weekly event in 2020, the return of Rockingham Speedway is easily the standout moment in an already eventful year. Having been abandoned for seven years, many people in the industry had given up on the idea of another race being held at the historic track, yet the CARS Tour is going to give it another try in October. It was an honor just to watch Late Models and Mini-Stocks make laps around Rockingham in December, and I'm looking forward to seeing many more trade paint there at the end of 2021.
Jeff Brown: The hours following the Snowflake 100 were certainly surreal for New England fans. It's rare that New England drivers truly get to contend in the Snowball or Snowflake. Jake Johnson, who was a Legends champion this year, didn't make waves in the big cars; he hung a throttle in Oxford 250 practice and that was it. For him to qualify through the LCQ and run third to Bubba Pollard and Stephen Nasse was as good as a win. For him to inherit the win was tremendous for New England. And then, to wait for hours as the outcome was deliberated behind closed doors…that's something that rarely transpires up here.
BEST WRAP: PAINT SCHEME OF 2020
Matt Weaver: I'm not sure if we're going to see it again but Bubba Pollard's VanDoorn Racing Development No. 71 was the most surreal and striking car of 2020. It was very clearly a Bubba Pollard car with Harrison's Workwear and TM Ranch sponsorship but it was also clearly the Butch and Johnny VanDoorn No. 71 — albeit with Pollard's No. 26 font buried in the corner. It was just a good looking race car even if it failed to finish the race by Lap 100.
Andy Marquis: Mark Wertz always had pretty race cars and 2020 was no exception. Photo courtesy of the Weekly Racer.
Brandon White: Josh Berry was one of the best Late Model drivers in the United States during the 2020 season, and it's only fitting that JR Motorsports would give him a recognizable paint scheme. Since 2019, the green, orange and white All Things Automotive Chevrolet has quickly become synonymous with success in the Late Model industry, with Berry adding a NASCAR Advance Auto Parts Weekly Series title to his growing list of accomplishments.
Jeff Brown: Nothing says "thinking outside the box" like the car Dave Sapienza brought to Loudon for the Musket 200. I don't know if it was foil wrap or paint; I'm guessing the former. Any car that leaves you guessing what color it is while it's standing still is worth loving. But chrome alone does not a scheme make. So it's between two for me: Justin Bonsignore's No. 51, which uses the underrated accent color of seafoam, or Chris Pasteryak's striking blue #75. I'll give the nod to Bonsignore.
CATCH UP: MUST READ STORIES FROM 2020
Jan 21: Kevin Harvick Tests Tour-Type at Martinsville
Jan 25: Bad blood spills over between Pollard and Nasse in Cordele 
Jan 27: Commentary: Pollard and Nasse Set the Tone for 2020
Feb 13: Nocella edges Hirschman in photo finish for the Blewett Memorial 76
Feb 19: Myrtle Beach owner cites attendance as reason to sell to redevelopers
Mar 11: NASCAR Bounty Reignites Snowball Derby Financial Dispute
Apr 26: Northeastern short-trackers find a needed outlet in simulator racing
May 1: Sherrill hopes to be the Voice of Hickory Motor Speedway for a long time
May 24: Nasse accuses Pollard of unfair weight break advantage after Baby Rattler
May 28: Dick Trickle Rides again with Ty Majeski
June 7: Why Berry intentionally crashed McCarty at Ace
June 10: OP – The Race at Ace wasn't a protest. It was a mockery of a just cause
June 26: Bubba Pollard to drive David Rogers' car in one last race
July 19: Three wide maneuver nets Butterbean the Hampton Heat 200
July 25: OP – Bob Bahre Never Lost Sight of His Short Track Roots
Aug 31: At Long Last, Johnny Clark Realizes His Oxford 250 Dream
Sep 12: In Any Other Year, ARCA Absence at NHMS a Headline
Sep 13: Lawrence and Watson Crash Across the Line in Sunset Thriller
Sep 27: Noles Earns Signature Victory at Bristol Amidst Hoosier Issues
Sept 29: Hoosier Accepts Blame for Bristol, No Crashes Resulted from Tires
Sept 29: Years of Experience Paying off for New Smyrna's Brad May
Oct 8: Rich Bickle Goes Back to the Future in Penultimate Oktoberfest Start
Oct 22: SLM Promoters Have Discussed a National Touring Championship
Oct 22: A Conversation with Dale Jr and Josh Berry
Nov 14: Luza Triumphs in First Start in Five Years at New Smyrna
Nov 14: Bubba Pollard is Slumping in Advance of the Derby
Dec 2: The Stephen Nasse Snowball Derby Disqualification, One Year Later
Dec 3: Why Chase Elliott Returned to the Snowball Derby
Dec 4: Why Bubba Pollard is Driving a No. 71 at The Derby
Dec 5: Why Stephen Nasse was Penalized Out of a Snowflake Win
Dec 6: Ty Majeski Wins Snowball Derby
Dec 7: Behind the Majeski, Thorn Battle that Decided the Derby
Dec 9: Observations – 53rd Snowball Derby
Dec 15: CARS Tour Tire Test at Rockingham Produces 'Inconclusive' Results
Dec 22: CARS Tour Adds Restrictor Plate to Late Models After Rockingham Test
Dec 24: CARS Tour Rockingam Race Postponed to Allow for a New Tire Compound
Read more Short Track Scene: