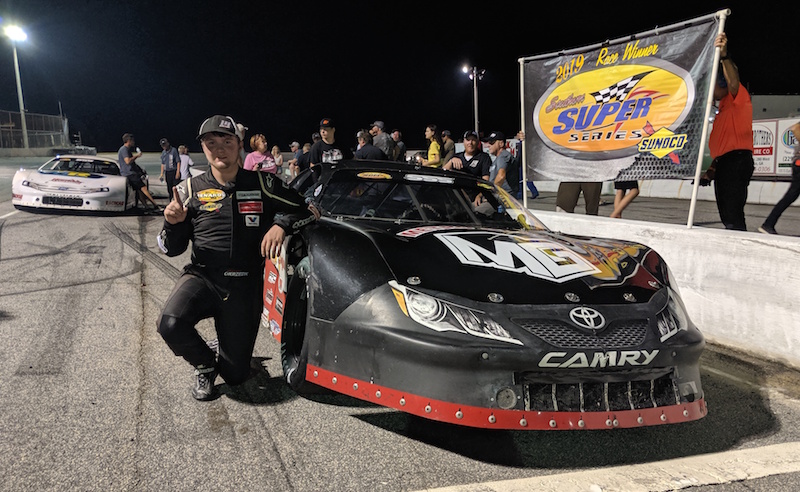 Connor Okrzesik is beginning to take a liking to Crisp Motorsports Park in Cordele, Georgia.
Six months after beating NASCAR Cup Series star Kyle Busch to claim his first Super Late Model victory at the track, the Alabama young gun outdueled national star Bubba Pollard to win Saturday night's Georgia Summer Nationals for the Southern Super Series.
Okrzesik went from being a bridesmaid to standing in victory lane after an epic battle with Pollard that ultimately came down to a restart with less than 15 laps to go.
"I'm wore out," Okrzesiksaid. "Me and Bubba had an absolute great battle at the end of the race. We were both driving as hard as we could absolutely drive to get the win and I edged him out a little bit. It just came down the restart. I think I was a little bit better than him like five to ten laps into the run when I got around him the first time so I could actually choose my restart, and then I cleared him and just never looked back."
When asked about what it meant to him to hold off Pollard after beating Busch at the same track earlier this year during CRA SpeedFest, Okrzesik didn't mince words.
"It means a lot. We've been the king of finishing second here lately," he stated. "I mean every time we go to a race track it seems like we finish second. We just can't edge out a win. But right here is our sweet spot. We've managed to get two wins here. So I mean, I'm starting to like this place a little bit."
Though Pollard came home second, he was still happy with the way the race went down.
"It was just a good race," Pollard said. "We were about evenly matched there. It was just depending on who got a good restart there. Being up front, I was just free up off the corner. I had to ride and yeah, it was just good racing.
"I was trying to make a run there at the end but I was just so free that I just couldn't and I didn't want to move him. So, all the haters and crybabies can't b—- at me this week. It was just good racing. He beat us tonight, so we'll go home and do some work. We did some testing for Oxford and Berlin, some of those bigger places that are coming up. We changed the car a little bit and I think we helped it in one area and hurt it in another. But I think we can take it and kill the momentum, make some adjustments here, and be good at both Oxford and Berlin."
Fast qualifier Casey Roderick came home in third after battling a loose race car all weekend long.
"All them cautions were killing me," Roderick said. "I felt like if we ran hard there for the last 50 laps we might have had a shot, but I was just getting too free in. We were free in the whole time we were here and kept tightening the car up, but could never get the freeness out of it. One thing that was good about that is that the front end was cutting really good for me and I could hang with them through the center of the corner. I had good drive off through the first three quarters of the race, but as we got freer in it got looser off. So, it's just not meant to be today. We'll keep making gains and be there next time."
Connor Okrzesik
Bubba Pollard
Casey Roderick
Dawson Fletcher
Michael Atwell
Corey Heim
Logan Seavey
Jett Noland
Kyle Bryant
Sheflon Clay
Jeremy Pate
Mark Wilkins
Brandon Herbert
Alexa Anderson
Anthony Sergi
Scotty Ellis
Stephen Nasse
John Coffman
Colin Allman
Kyle Sieg
Read more Short Track Scene: