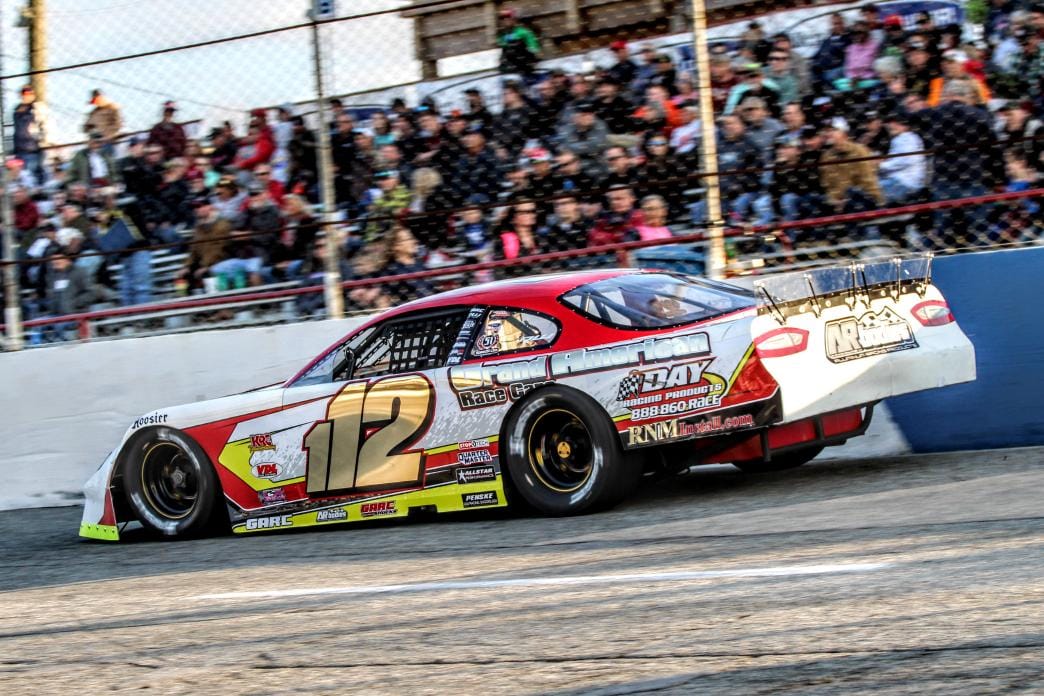 Augie Grill captured the pole for Saturday night's Allen Turner Hyundai Snowflake 100 Pro Late Model race at Five Flags Speedway earlier this evening.
Grill, who is a former winner of the Snowball Derby and the Snowflake 100, laid down a blistering 16.662-second lap around the half-mile track in Pensacola, Florida, outpacing Derek Thorn who won the pole for Sunday's Snowball Derby.  Grill comes into the Snowflake 100 fresh off a thrilling win in the Modifieds of Mayhem series on Friday night.
Brandon Oakley qualified in third while Bubba Pollard and Sammy Smith rounded out the top-five.  Other notables include Justin South (6th), Kyle Plott (8th), Connor Okrezesik (11th), Mason Diaz (12th), Carson Hocevar (19th), and Stephen Nasse (20th).
The full qualifying results can be seen below.
Snowflake 100 Qualifying
Augie Grill – 16.662
Derek Thorn – 16.740
Brandon Oakley – 16.748
Bubba Pollard – 16.762
Sammy Smith – 16.767
Justin South – 16.771
Ryan Paul – 16.797
Kyle Plott – 16.811
Jackson Boone – 16.840
Mason Keller – 16.846
Connor Okrezesik – 16.871
Mason Diaz – 166.875
Perry Patino – 16.918
Jake Johnson – 16.939
Dustin Smith – 16.945
Jeff Noland – 16.960
Wayne Anderson – 16.964
Dylan Fetcho – 16.969
Carson Hocevar – 16.972
Stephen Nasse – 17.003
Daniel Dye – 17.005
Kyle McCallum – 17.014
Jo Jo Wilkinson – 17.020
Stacey Crain – 17.022
Jarrett Parker – 17.025
Mike Garvey – 17.039
Rodrigo Rejon – 17.043
Brandon Curren – 17.097
Chris Hacker – 17.145
Dan Leeck – 17.172
Jake Griffin – 17.254
Justin Bonnett – 17.276
Bill Melvin – 17.348
Elliott Massey – 17.423
Trevor McCoy – 17.587
Cody Brake – 18.542
Jacob Beasock – no time