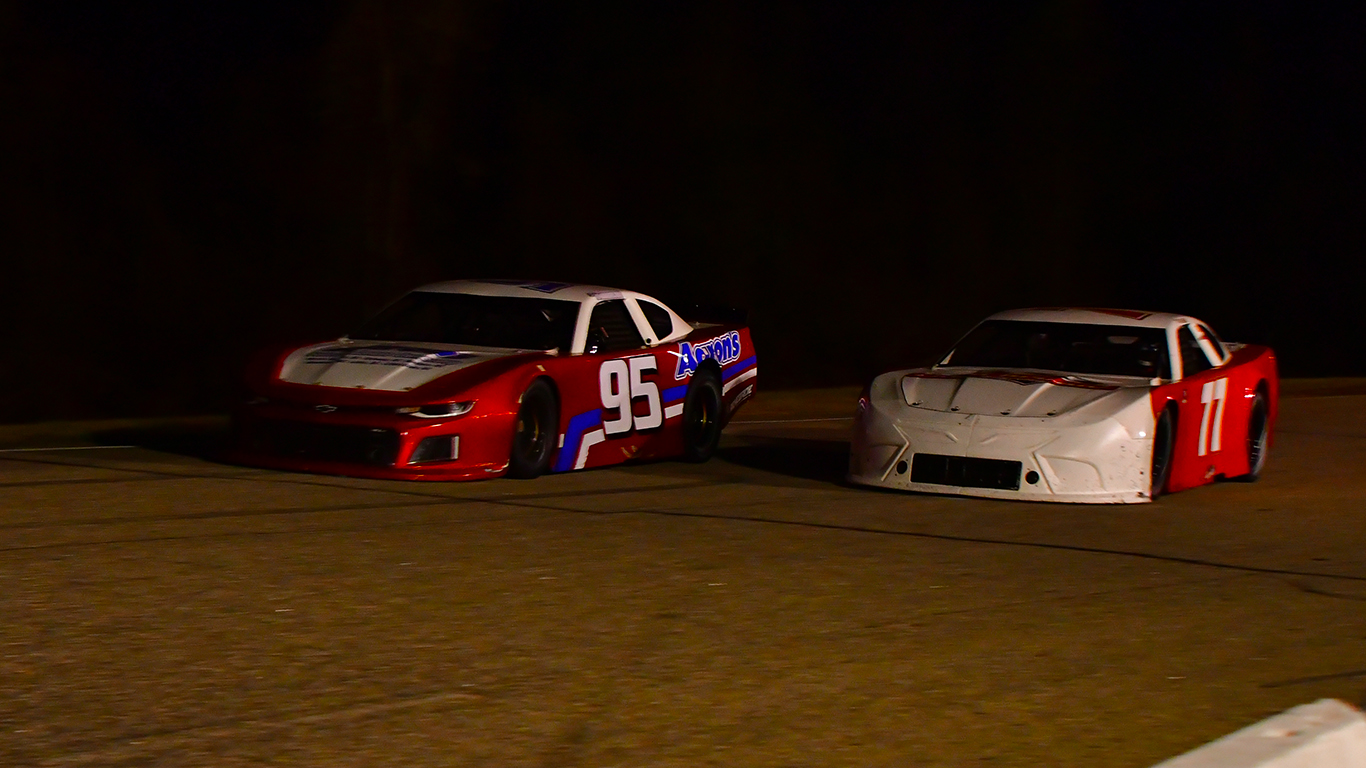 TIMMONSVILLE, SC – Sam Yarbrough said after Saturday night's South Carolina 400 that the GM 604 crate motor should be retired from Late Model Stock Car racing and criticized the weight break on the motor which Ty Majeski won with.
Yarbrough led 75 laps in the 225-lap Late Model Stock Car feature race, which was run as the Charlie Powell Memorial 225, before ultimately settling for a third-place finish.
"All those cautions that kept falling, people running off the track and running into each other," Yarbrough said.  "Maybe things could have been a little different you know if we hadn't had all those cautions and restarts, I could have distanced myself, maybe rode a little bit more once I got out there.  It's tough to beat a weight break."
The GM 604 received a 50-pound weight break under the rules at Florence Motor Speedway, which were imported from Myrtle Beach Speedway, in comparison to the Ford 347 SR Crate motor Yarbrough ran under the hood of his car.
"They bring these 604s to these low grip race tracks," Yarbrough continued.  "That's smart because they can do it but I just don't really agree that the 604s should still be in use in Late Model Stock.  Nobody runs it in CARS Tour.  You've got a handful of them out here and they get a weight break.  Shame on us for not doing it.
"They're pretty strong 604s too.  I've had one, it's nothing like those.  Not to say they're right or wrong or indifferent, it's just cards we've been dealt this weekend."
Majeski confirmed to Short Track Scene that he had run a GM 604 crate motor – which typically receives weight breaks at racetracks which also allow the higher horsepower GM SPEC Upgrade, Ford 437 SR crate and Harrington Enforcer engines.
After the race, track operator Steve Zacharias addressed the concerns about the rules and said the track learned a lot and knew they needed to make changes.
"I know there's work to be had, just like the Beach, it took us a while to get the rules exactly where we wanted them," Zacharias told Short Track Scene.  "I know people got their opinions on what we got to do going forward.  We've come off of Myrtle Beach and adapted what we did there and brought it here because we didn't know any better.
"Now we know better and that's why we've listed all our engine combinations this time and went down and took as many notes.  We'll take that into the offseason and make the adjustments we need to at this point."
Yarbrough was the winningest driver at Myrtle Beach Speedway and won the final race ever held at the track and the first race under Zacharias' management at Florence.