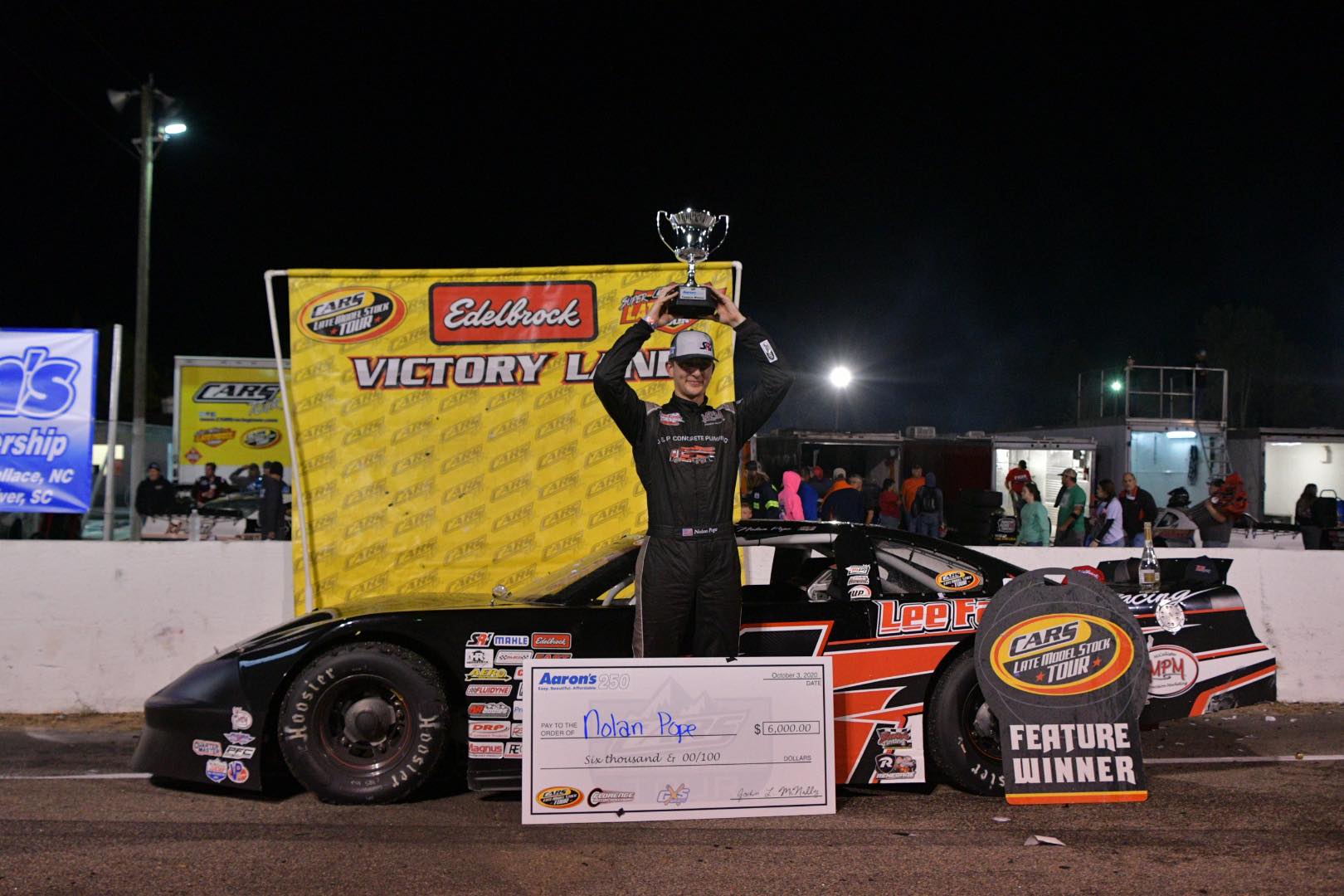 As he took the checkered flag, Nolan Pope had no idea that he had just won the Aaron's 125.
Then came the celebratory yell.
"Yeaaaah!"
It was from his team, Pope having no idea why everyone was yelling at him.
Here's the reason: As Pope dove under Timothy Peters in Turns 3 and 4 on the final lap, only one of them knew they were racing for the win.
Ultimately, Pope beat Peters to the line by 0.130 seconds to claim his first CARS Tour victory on Saturday night at Florence Motor Speedway.
"I really had no idea," Pope said. "I knew we were in the top four or so, and I knew Timothy restarted on the front row, so I knew we were close. We crossed the line and they were yelling at me.
"I asked, 'did we win' and they said 'yeah,' so it's pretty cool.
Pope spent much of the first half well off the pace in the name of tire conservation. He continued conserving early in the final green flag stint that began with xx to go.
So, Pope didn't realize Peters was the leader and was just trying to pick up one more spot by the end of the race.
"We had a plan at the beginning to ride up front and that didn't happen because they took off quicker than we wanted to and the spotter kept me calm," Pope said. "I don't question these guys. We fell back almost to last there. But I knew on the Lap 80 caution that we'd have a shot with this car."
Over the final 10 laps, Pope began to push forward and started knocking off nearly a half second off Peters lead.
The former NASCAR Truck Series contender and championship race finalist had spent several laps before in a side-by-side battle with Chad McCumbee it that likely cost him the time and tire life needed to stave off the inevitable.
"When I saw that black car coming and they told me it was Nolan, I knew I had pushed too hard," Peters said. "We were in that battle for the lead and after we got the position, I probably should have backed off more than we did.
"I overheated the right front and that's what cost me the win."
Meanwhile, Jared Fryar moved one step closer to a second CARS Tour championship, but his first in the Late Model Stock, with a challenging fifth-place finish in the Palmetto State.
Fryar entered the race with a seven-point lead advantage over Layne Riggs but could only muster the 17th best speed in time trials earlier in the afternoon.
And yet, Fryar methodically pushed forward and broken into the top-five on Lap 70. He would finish fifth.
"I felt like we did everything we could starting P17," Fryar said. "We had a good race car, especially on long runs, and it always seems like that's when you don't qualify good, go figure.
"We were stacked against the odds. But this strategy race played in our hands because there was a lot of riding around and saving tires. We saved when we needed to and took off when we needed to.
"I kind of wish we had caught a caution with 10 to go or so because I think we could have won with how good this car was."
That performance was important, because it coincided with more misfortune from Layne Riggs, who entered this weekend seven points behind Fryar in the championship standings after winning the past two races and scoring a pole on Saturday.
Riggs led the first 20 laps but began losing electrical power 10 laps in. The No. 99 then began hemorrhaging positions and had fallen outside of the top-15 by the competition caution on Lap 40. They lost two laps replacing a failed alternator, and never caught the caution needed to get them back in contention.
Riggs finished 15th, and perhaps more importantly, fell to 15 points out of the championship lead, one point behind Corey Heim for second in the standings.
"We were doing a good job saving our tires and riding at the front, and felt like we had a good car, and was just waiting to pull the trigger," Riggs said. "I got halfway down the straightaway and it felt like I was on the rev limiter and that made no sense.
"It got worse, no power, full throttle on the straightaway. Good car. Bad alternator.
"And that pretty much took us out of the championship, because we have the wins, but not the consistency with this. It's going to be tough to do now."
The next race is the season finale, the $30,000-to-win Old North State Nationals, which had been moved from Orange County Speedway to Greenville Pickens Speedway due to COVID-19. Fryar will complete his championship run by virtue of finishing inside the top-10, but would like to win the biggest check of the year too.
"We have to go down there and perform like any other weekend," Fryar said. "We try to take every car to the track and make it a winner. I am looking forward to Greenville. The points are not as close so that takes some pressure off, but we need to be a little better than we were tonight, and that's going to be the goal the next few weeks."
Riggs shares that sentiment as well.
"I go into every race trying to win," Riggs said. "It's just like any other race. We're going to go there with the same package and try just as hard as any other time. If we can win that race, it might be just as sweet in the end."
RESULTS
1 Nolan Pope
12 Timothy Peters
16 Chad McCumbee
2 Lee Pulliam
14 Jared Fryar
78 Corey Heim
19 Deac McCaskill
81 Mini Tyrrell
51 Chris Chapman
4 Jonathan Findley
63 Tyler Matthews
74 Ronald Hill -1
22 Bobby McCarty -1
19c Jessica Cann -1
99 Layne Riggs -2
2s Jonathan Shafer -4
95 Matt Cox OUT
T2 Travis Truett OUT
08 Justin Johnson OUT
99s Austin Somero OUT
88 Connor Mosack OUT
Read more Short Track Scene: