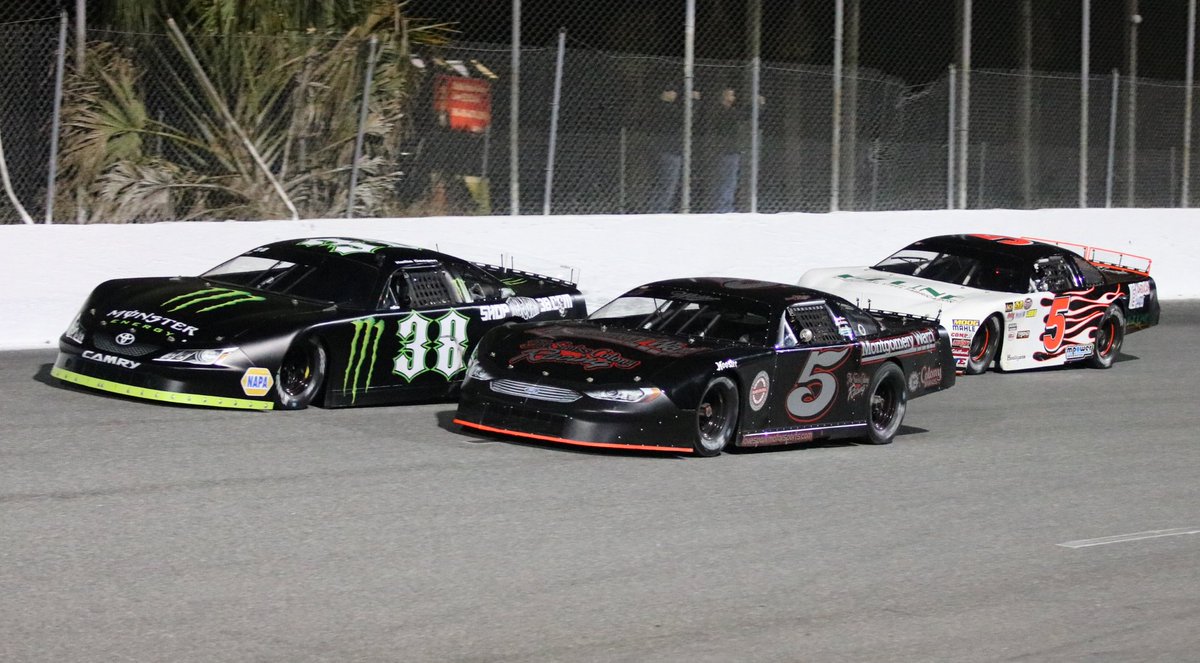 Hailie Deegan finished second to Jeremy Miller in the Pro Late Model opener for the World Series of Asphalt on Friday night at New Smyrna Speedway.
The reigning K&N Pro Series West rookie of the year suggested after the race that Miller's engine enjoyed an unfair advantage — and may have been grounds for disqualification.
Miller captured the pole and drew a 'zero' for the invert, meaning he started up front and led every lap. After fending off an early challenge from Deegan, Miller slowly extended his advantage at the front of the field and took the checkered flag.
Deegan finished second, followed by Loris Hezemans.
Miller is using a Midwest Limited Late Model motor used in the Big 8 Series across Illinois, Wisconsin and Iowa. 'Pro Late Models' have been allowed to use its current engine-rev limiter combination at New Smyrna Speedway since 2015, but Deegan believes it provided Miller an unfair advantage.
In a since deleted tweet, the 17-year-old suggested the following:
That drew the ire of technical inspector Ricky Brooks.
"The comments she made on social media, she's talking about something she doesn't know anything about," Brooks told Short Track Scene after the race. "The motor that is in Miller's car has run down here for five years.
"Austin Nason has ran it. Tim Sargent has run it. It's never posed a threat until it had a superior car and driver combination like this one had. There are multiple championships between that group, and they drew a zero in the invert after winning the pole, so he didn't have to pass anyone.
"I'm going to look at it overnight and see if we need to make an adjustment. For her to say that this motor had an advantage over everyone else's … she needs to look at her own. Her motor is turning 6800 rpms and a crate motor is turning 6300. So don't throw stones at someone unless you want stones thrown back at you. Know the whole story."
Per the rule book:
FOR SPEEDWEEKS ONLY AT THIS TIME
5. Big 8 Limited Concept Engine Package (all Big 8 rules apply to engine , carb, exhaust and maximum rpm 7000 subject to adjustment)
6. Wagner LS 5.3 (All Big 8 rules apply to engine, carb, exhaust, must have 50 lbs. mounted to engine block and maximum and maximum rpm 7000 subject to adjustment)
Brooks added more technical details, too.
"The Big 8, they don't particularly have a rev limiter, " Brooks said. "They do, but it's really high up there. I have to cut that engine way back from what it does in the Big 8.
"A Ford crate engine is 6300, a Chevy crate is 6400 and the motor in Deegan's car is 6800 and I start the Big 8 engine at 7000 like I have for five years so we'll look at an adjustment and go from there."
Read more Short Track Scene: