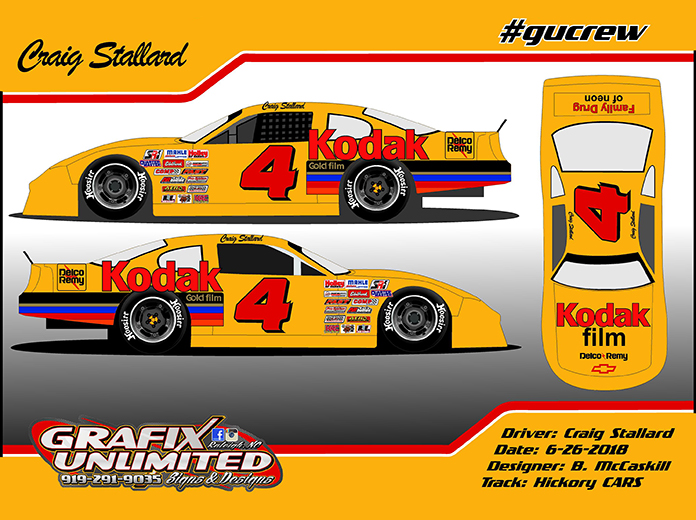 The second paint scheme reveal for the CARS Tour Throwback 276 has yet another NASCAR Winston Cup Series connection.
Late Model Stock veteran Craig Stallard will pay homage to Sterling Marlin with the famed Morgan-McClure No. 4 Kodak livery during the August 3 and 4 race weekend at Hickory Motor Speedway. Specifically, this is the variant Marlin drove during the 1994 Cup Series campaign.
That season, he won his first of back-to-back Daytona 500s. He finished 14th in the championship standings that season with eight top-10s.
READ MORE: 2017 Throwback 276 paint schemes
The throwback livery was designed by Grafix Unlimited, operated by CARS Tour regular Bradley McCaskill. Marlin is still an active competitor in Pro Late Models at his home track, Fairgrounds Speedway Nashville.
In addition to Hut Strickin, who will be honored by his son Taylor with a throwback scheme, Bobby Allison, Donnie Allison, Ron Hornaday Jr., Randy LaJoie and Robert Pressley will be on-hand to sign autographs and take part in a Q&A session before the race.
As is the case with all CARS Tour races, the Throwback 276 can be viewed live with a CARSTour.TV subscription package. The race will also air on MAVTV on September 6 at 7 p.m. and 10 p.m.
Read more Short Track Scene: