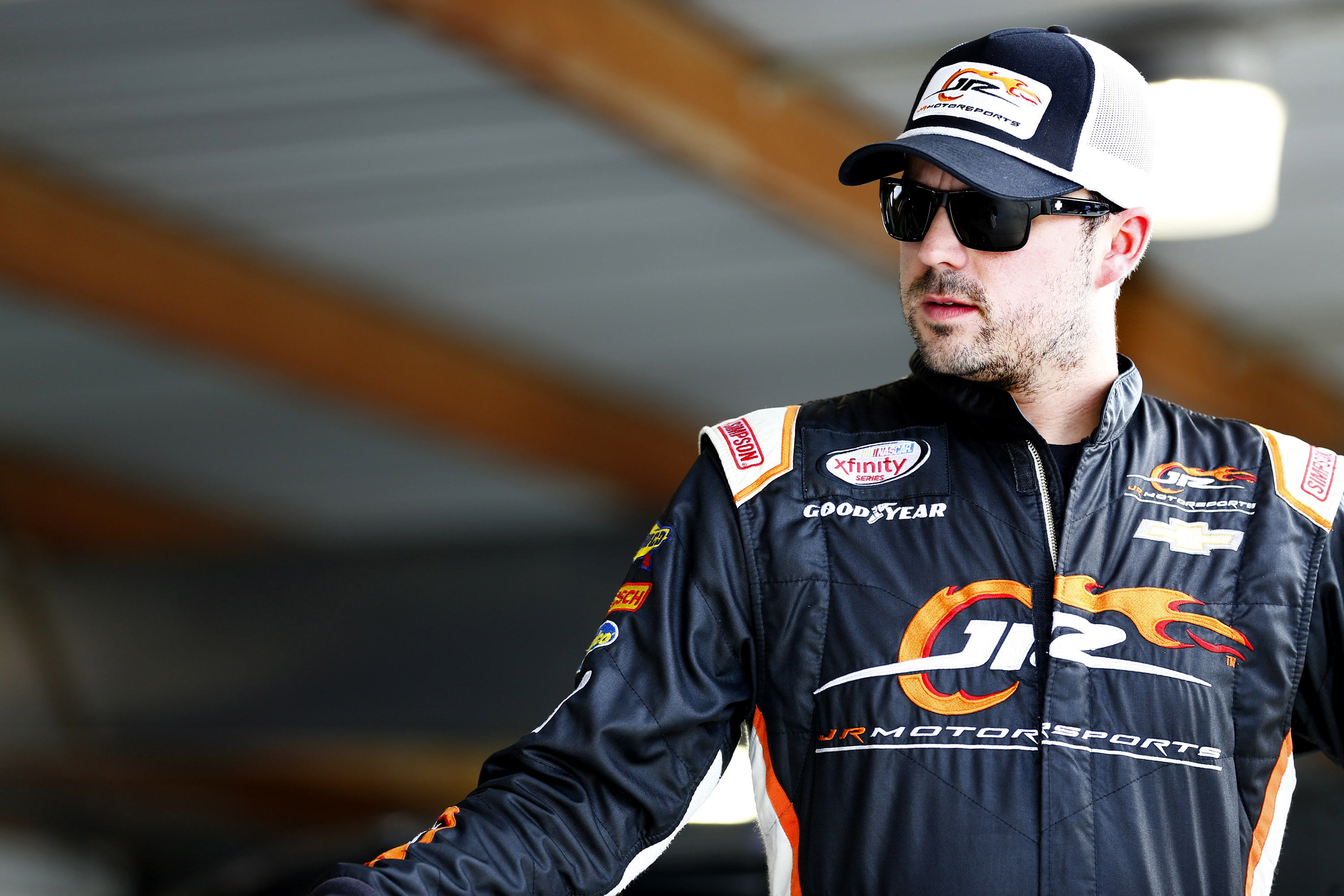 By no fault of his own, Josh Berry hit most everything in Altamahaw, North Carolina.
Then he hit Victory Lane too.
In one of the more emotional victory lanes of recent memory, Berry climbed out of his No. 88 JR Motorsports Chevrolet and pointed to a sticker that paid tribute to Brenda Jackson, the mother of Dale Earnhardt Jr. and a longtime employee of the organization.
The 28-year-old had to work for it too.
He was involved in a Lap 3 pile-up in Turn 4, was used a ramp by Leland Honeyman on Lap 30 and twice marched from the back-to-the-front to win the CARS Tour Race at Ace 125 on Friday night. It was his 15th overall victory in CARS Tour competition and his first of the season.
"I just felt calm," Berry said. "Even after what happened early in the race, I just felt calm. I knew from early on that we had a good car and we just didn't put down a good qualifying lap.
"It's obviously been a long week for everyone at JR Motorsports. Willie and Brenda (Jackson) were such a big part of my career when I first moved here 10 years ago. They let me live with them for two months until I got settled and it's just been a long couple of months for Dale, Kelley and L.W."
Berry started the race in eighth and immediately got spun on Lap 3 in an incident that began when Layne Riggs cut down in front of Justin Carroll just ahead. That created a chain reaction that also damaged Sammy Smith, Taylor Gray and Tommy Lemons.
Berry endured minimal damage in the spin but was forced to come from the rear with over 120 laps to work with.
He then suffered moderate damage on Lap 30 when Honeyman locked up the brakes and got into the right rear of Berry's Late Model Stock, which sent him into Brandon Pierce.
Berry worked his way through the field and was second to a dominant Bobby McCarty when Mini Tyrrell spun on Lap 89. The ensuing restart was the opportunity the 2017 CARS Tour champion needed. He fell back behind McCarty and nudged him off the bottom groove and sailed ahead.
Berry led the final 30 laps.
"As tough as this field is, we don't get the chance to come back like this very often," Berry said. "We had such a great car. We turned well and made passes when we needed to. We'll take it. And am very excited to win this tonight."
The complete results can be found below.
1. 88 Josh Berry
2. 15 Ryan Millington
3. 08 Deac McCaskill
4. 22 Bobby McCarty
5. 98 Adam Lemke
6. 25 Zack St. Onge
7. 07 Bradley McCaskill
8. 81 Mini Tyrrell
9. 12 Sammy Smith
10. 17p Stacy Puryear
11. 1 Craig Moore
12. 4 Jonathan Findley
13. 01 Camden Gullie
14. 63 Tyler Matthews
15. 74 Ronald Hill
16. 2 Brandon Pierce -1
17. 19c Jessica Cann -5
18. 77 Trevor Ward -6
19. 17 Taylor Gray OUT
20. 99 Layne Riggs OUT
21. 19 Cameron Bowen OUT
22. 27 Tommy Lemons Jr. OUT
23, 57 Justin Carroll OUT
24. 4h Leland Honeyman OUT
25. 18 Jason York OUT
Read more Short Track Scene: