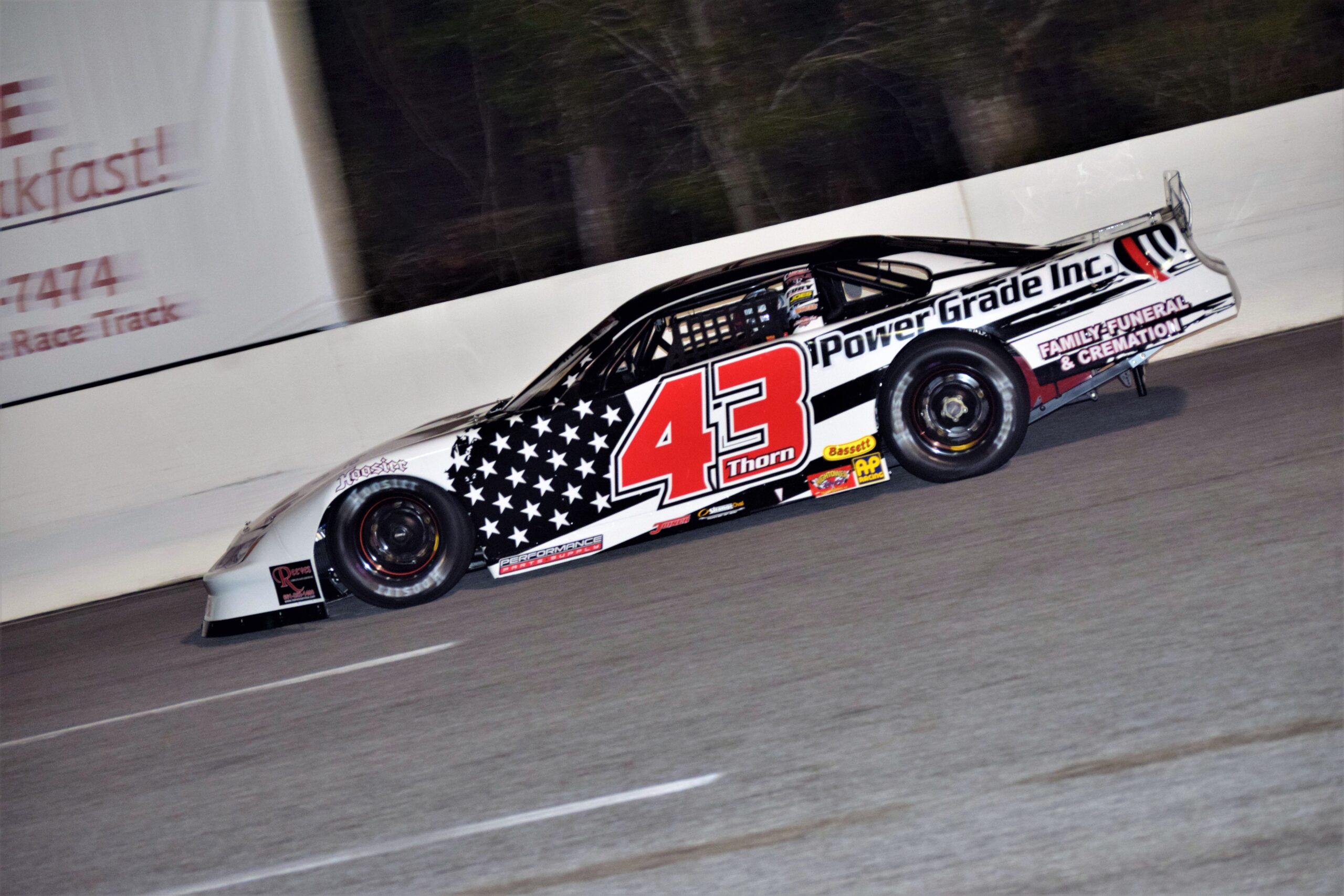 For the second year in a row, Derek Thorn has traveled coast to coast and placed the Campbell Motorsports No. 43 on the pole for the Snowball Derby at Five Flags Speedway.
The four-time SPEARS SRL Southwest Tour champion and two-time NASCAR Pro Series champion has remained the most competitive Super Late Model driver out of the Southeast and shows each time he travels east for the marque season ending events.
Thorn was the 40th of 53 drivers to take a timed lap and his 16.258 second lap was enough to unseat Kaden Honeycutt from the pole by 0.019 of a second.
"I didn't think we were that good," Thorn said. "I thought we were in the ballpark, but it takes the weather changing just a little bit between first and ninth.
"You juts never know how your car is going to react. Luckily, it reacted my way."
Thorn is now eligible for an additional $25,000 in addition to the $25,000 base purse if he elects to start from the rear of the field on Sunday. He has until Sunday morning to decide and Thorn says he will sleep on it before making up his mind. If he's successful, winning the race would net him $50,000 total.
Perhaps that decision will be made after final practice when he determines what kind of car he has in racing conditions.
"We have to get back to work tomorrow and see what we have in race time," Thorn said. "We'll put some tires on it, make a couple of runs, and see what we have for them on Sunday"
Honeycutt made the field for the third consecutive year with a 16.277 to land on the outside front row for the biggest race of the year. He actually believes he left too much on the table in hindsight.
"I think I underdrove it, honestly," Honeycutt said. "I really think I underdrove my good lap. That just comes with experience, man. You're damned if you do and damned if you don't. You gotta know your throttle points and you gotta be confident.
"And I had plenty of confidence in our race car. These guys have been doing this for years. Derek was on the pole last year so he knows what it's like. While it's not everything I wanted, we worked really hard and we still have 300 laps on Sunday to get what we came here for."
Ty Majeski spent all week working on his qualifying trim and really wanted the opportunity to take the 'Back to the Front Challenge,' but was satisfied with a third place time.
"Obviously, we wanted the pole but third ain't bad," Majeski said. "Derek went out later, but it's hard to say if it made a difference. Overall, I'm pretty happy with the effort.
"We came here wanting to qualify better and we did exactly that. We're really happy with the car in race trim and we're excited for Sunday."
Jesse Dutilly was the final driver to lock himself in on time, just 0.009 ahead of two-time Snowball Derby winner Augie Grill, but he had to wait 20 minutes to learn his fate. Sammy Smith of Kyle Busch Motorsports was given a second chance to qualify after a scoring error only gave him one timed lap initially.
Smith could only go 44th and it was enough for Dutilly to make the field.
"Yeah, it was really unnerving," Dutilly said. "I don't really understand what the technicality of the rule was, but either way, we're in the race. I just want to thank my guys. We worked our butts to get the car better. We're in the race and I'm looking forward to making better before Sunday."
Grill will start a star-studded last chance race that includes reigning NASCAR Cup Series champion Chase Elliott, 2018 Snowball Derby winner Noah Gragson and CRA Triple Crown winner Carson Hocevar. The 50 lap last chance race will take the top-four finishers who clear tech after the race. They will start Sunday's main event in positions 31-34. Pollard and Pate starts 35-36.
Bubba Pollard and Jeremy Pate also qualified outside of the top-30 will receive a provisional from Five Flags Speedway and the Southern Super Series to make the field of 36. Since defending race winner Travis Braden made the field on time, a defending winner provisional will not be necessary.
SNOWBALL DERBY QUALIFYING RESULTS
Derek Thorn 16.258
Kaden Honeycutt 16.277
Ty Majeski 16.346
Cole Butcher 16.354
Stephen Nasse 16.377
Daniel Dye 16.380
Jeremy Doss 16.392
Matt Craig 16.393
Kyle Busch 16.395
Logan Boyett 16.397
Kyle Plott 16.407
Preston Peltier 16.410
Casey Roderick 16.415
Derek Kraus 16.416
Hunter Robbins 16.423
Corey Heim 16.428
Grant Enfinger 16.432
John DeAngelis 16.434
Paul Shafer, Jr. 16.443
Kyle Sieg 16.453
Chris Davidson 16.454
Ross Kenseth 16.459
Boris Jurkovic 16.460
Cayden Lapcevich 16.461
Dan Fredrickson 16.461
Jake Garcia 16.472
Mason Diaz 16.473
Michael Atwell 16.473
Travis Braden 16.499
Jesse Dutilly 16.509
Augie Grill 16.518
Casey Johnson 16.526
Kodie Conner 16.542
Austin Nason 16.545
Noah Gragson 16.549
Carson Hocevar 16.550
Bubba Pollard 16.552
Derek Griffith 16.556
Gabe Sommers 16.559
Dalton Zehr 16.560
Hudson Halder 16.562
Chase Elliott 16.576
Connor Okrzesik 16.588
Sammy Smith 16.593
Jeremy Pate 16.613
Kyle McCallum 16.630
Kason Plott 16.772
Perry Patino 16.781
Justin T. Johnson 16.786
Ryan Crane 16.873
Kyle Bryant 16.912
Colten Nelson 16.990
Chandler Smith DQ